This a story of a motorcycle i own. She is a Black 1997 Honda Shadow ACE.[American Classic Edition] 
She has an 1100 V-twin gasoline engine with 2 spark plugs per cylinder for better spark increasing fuel efficiency and power. That combination gives the engine 55 brake horsepower Some bikes have a chain that drives the rear wheel, some have a rubber belt.  my Bike has shaft drive and is maintenance free, no grease fitting, no oil. I usually put about 5000 kilometers on in a season, so I will change the oil once a year. My choice of oil is Castrol 20w50 because 10w40 is too light and burns up too fast and doesn't give the engine enough protection, in my opinion.
Me on my Honda  and my wife Diana on here Red Yamaha 650 VStar
took a cross country trip on our motorcycles in 2010 From Barrie Ontario to  Edson Alberta.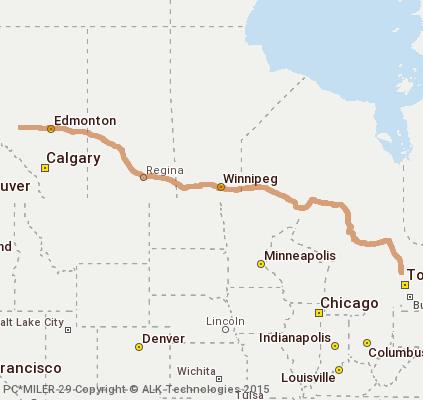 The trip took 17 days it was supposed to take 15 days buy with rain we ended up 17 days away from home.  On the way out it takes 3 days to travel across Ontario from Barrie and two days to cross Manitoba, Saskatchewan, and Alberta.  Along the way, we met many nice people and saw some beautiful sights.
Manitoba 
You have never seen such a flat land in all of your life. If you haven't been to prairies of Canada you have to see  to believe it.  Its so flat people who live there say if your pet runs away that you can watch them run for days. LOL
Saskatchewan 
Fields, fields and more fields and of course Saskatoon the home of the CFL Rough Riders. This is where i lost one of my highway pegs in another  rain storm. We got totally soaked again and spent an hour or so drying our clothes at the local truck stop (Husky Gas). We made our way to Alberta the same day.
Alberta 
One thing i will remember is majestic Rocky Mountains and the hail storms in Alberta.  One day i witnessed lightning hit a hydro pole as we were riding on the highway, just before we hit our first hail storm. We got totally soaked and had to flag down a car so we didn't get hit by lightning or sucked up by a strong wind! After the storm had passed we were on our way to get dried out when the chain on Diane's bike fell off leaving us and one kind gentleman to repair her chain on the side of the road. Eventually, we got dried out again and made it to our destination Edson Alberta. After we left Edson we headed Through Jasper National Park Where we watched a friendly Bear walk along side of the road while tourists took pictures of him from there cars. About an hour later as we were traveling through the park we also saw some mountain goats climbing up a hill and crossing the road in front of us, So close we could have touched them as they ran by. Lake Louise is spectacular my words can't describe how beautiful it is with glacier water spilling down into welcoming embrace.
This is a video collage  i made up after we came back from the trip.